The Center for Nonprofit Management and Envision Consulting are proud to release the 2022 Equitable Nonprofit Workplace Report (ENWR), featuring:
Current compensation and benefits data for a broad range of nonprofit jobs in Southern California
Insights into the experiences of local nonprofit employees and organizations viewed through an equity lens
Recommendations for strengthening equity throughout your organization's compensation, benefits, and human resources practices
An update to CNM's popular Compensations and Benefits report, the ENWR's scope has been widened to include a deep exploration of the Southern California nonprofit sector's Diversity, Equity, and Inclusion practices as the authors recognize that no discussion of employment practices is complete without viewing those practices through an equity lens. 


The Data-Driven Insights You Need
Informed by more than 500 individual and organizational survey respondents, the ENWR presents a unique opportunity for you to:
Find appropriate compensation levels for your organization's staff and new hires
Find benchmarks by which to evaluate your organization's Diversity, Equity, and Inclusion practices
Identify areas of improvement for your organization and find recommendations for how to get there
Compensation Data to Match Your Organization
The ENWR presents compensation data for the nonprofit sector's most common job titles and departments, including Executive Directors, Chief Executive Officers, and a full range of positions in the programs, operations, finance, development, and marketing departments. Positions range from Vice President and Director through managers, associates, and coordinators.
Each of the nearly 60 job titles detailed in the report includes a minimum, maximum, and median Annual Base Pay separated among the following employer details:
Annual Budget
Location
Field of Service
Employees Managed
Expand the nearby chart to see an example of the salary data presented for each job title in the report.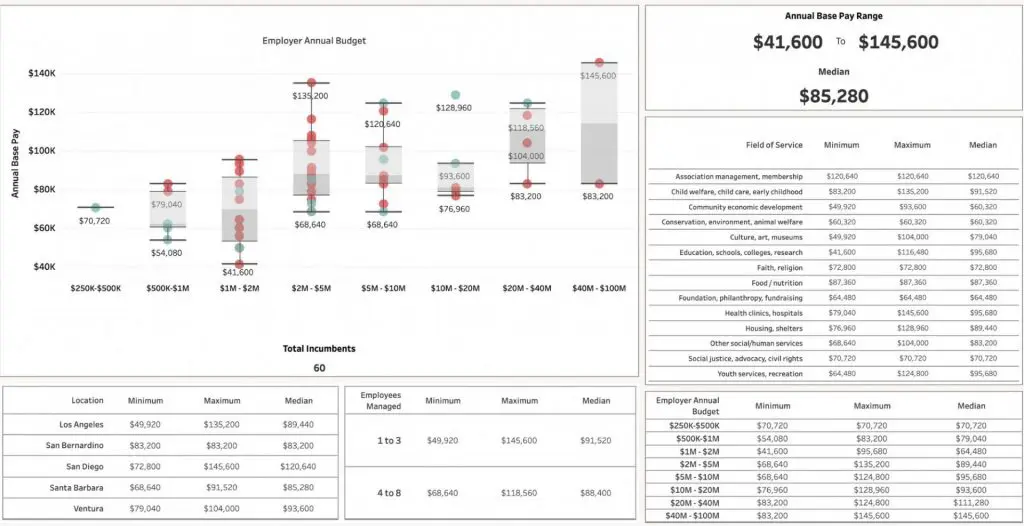 Dive into Nonprofit Diversity, Equity, and Inclusion
CNM and Envision Consulting came together to better understand the current state of compensation, benefits, and of Diversity, Equity, and Inclusion practice, implementation, and outcomes in the Southern California sector. 
We know that the nonprofit sector – with its deep knowledge of the values, experiences, and social forces impacting diverse racial, gender, age, and cultural groups in our society – is well-positioned to set a powerful precedent for equitable, inclusive practices in the workplace that attract and retain talent from all walks of life.
Key Findings
THE GREAT RESHUFFLE
While half of the employees we surveyed have no intention of leaving their role or organization, about one-third intend to leave within 12 months. At the same time, just under half of participating organizations agreed that they struggle to retain employees. Many organizations and employees report that remote and flexible work arrangements have successfully contributed to retention and workplace wellness.
COMPENSATION + BENEFITS
With respect to compensation, the racial wage gap persists across organizational budget size, and across employee age categories. White employees are making between $5,000 and $20,000 more a year than their Black, Indigenous, and People of Color (BIPOC) peers. Additionally, our survey found evidence that the documented gender wage gap among nonprofit executives persists in 2021 (male executives make about $10,000 more per year than their female counterparts, across all organizational budget sizes). Many employees expressed feeling that their compensation was not commensurate with their workload, a key factor underlying burnout.
ADVANCEMENT + PROFESSIONAL DEVELOPMENT
Approximately one-third of employees in their 20s, 30s, and 40s said they did not understand the criteria for advancement in their organizations, and just over one-third said they would have to leave their current position and employer in order to get a promotion. Employees indicated that access to professional development would positively contribute to job satisfaction, which, more than any other factor, predicted an employee's intention to stay in their current role. Fifty-three percent of participating organizations say they pay for staff professional development.
REPRESENTATION, LEADERSHIP + DEI
Finally, our survey found that organizational diversity and inclusion are intertwined: employees are more likely to feel valued and included, and more likely to feel positive about their workplace, in organizations that are more racially diverse and that have a greater tangible investment in DEI. Analysis of individual survey responses found that Black CEOs – regardless of the diversity of their organizations – are much less likely to feel valued and included at work than their White CEO counterparts. Multiracial, Latino/Hispanic and Black employees are less likely to have received a recent wage adjustment than their White and Asian Pacific Islander peers.
Respondents Reflect the Southern California Nonprofit Sector
To inform the report, we surveyed 115 organizations and 412 individuals who represent organizations with various fields of service and budget size.
---
THANK YOU, SPONSORS!
---
THANK YOU, AMBASSADORS!
---